Raspberry Pi 3 is out today (RASPBERRY PI 3 ON SALE NOW AT $35, 29 February 2016), it's been almost 4 years since I have my first Raspberry Pi, the Raspberry Pi Model B, with has only 256MB ram, now the Raspberry Pi 3 comes with the same price – $35, but much more powerful, including Quad-core 64-bit ARM Cortex A53 clocked at 1.2 GHz, built in 802.11n WiFi and Bluetooth 4.1 LE, and fully compatible with the previous version(s)! No more usb WiFi / Bluetooth dongle from now on also means we don't need to be worried about the compatible of the WiFi/BT chip and Pi, also save us 2 USB ports, that's very nice! Let's take a look at it now:
Here is a photo of Raspberry Pi 3, almost the same look as Pi 2: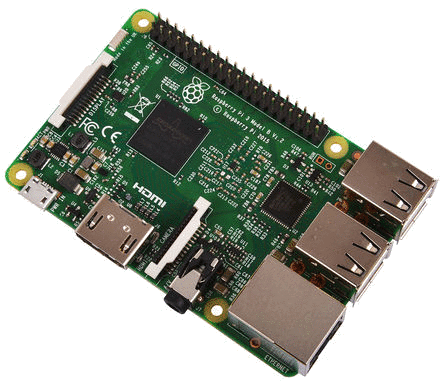 (Raspberry Pi 3 picture original from RS online: http://uk.rs-online.com/web/p/processor-microcontroller-development-kits/8968660/)
Another pic with some notes: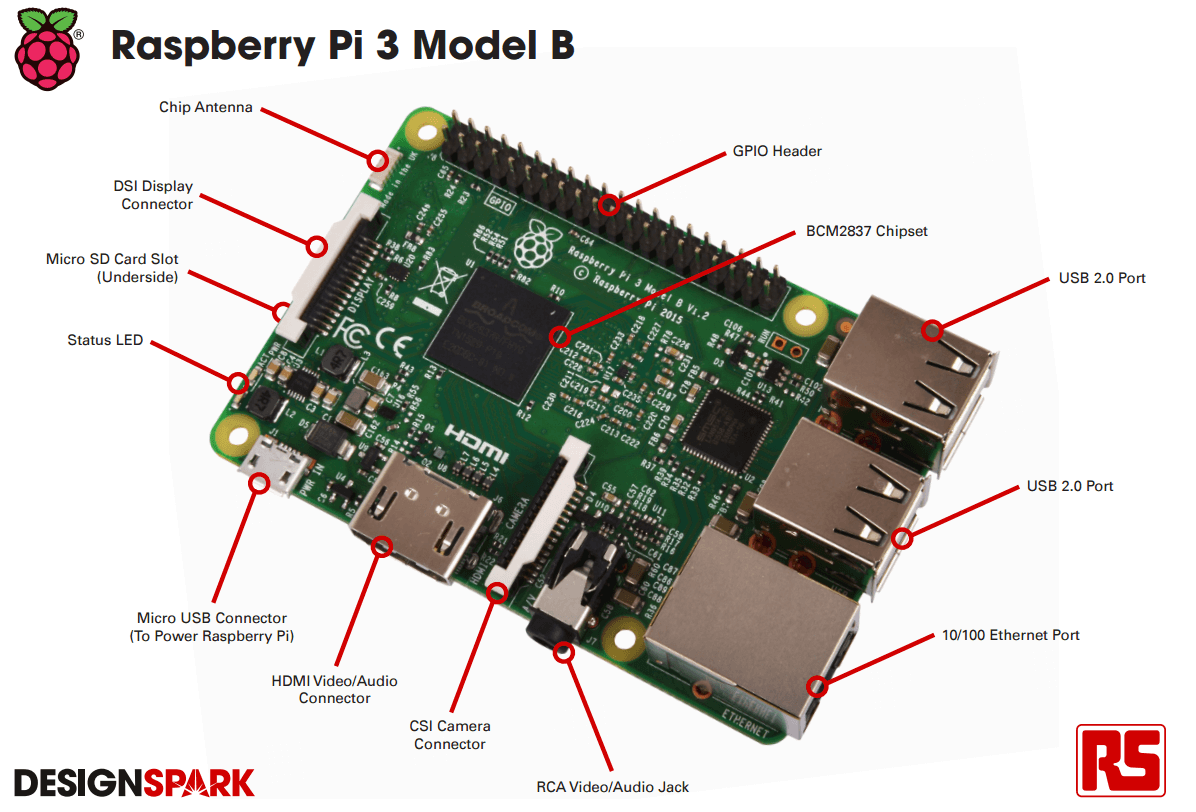 (From the link of Raspberry Pi 3 diagram on RS online Raspberry Pi 3 page)
To make it easier to be compared, I made a simple comparison chart by myself, to compare the difference between Raspberry Pi 3 and all the Raspberry Pi models I have:
Raspberry Pi 3 Model B
Raspberry Pi 2 Model B
Raspberry Pi Model B+
Raspberry Pi Model B
Release
Feb 2016
Feb 2015
July 2014
April 2012
Processor Chipset
BCM2837
BCM2836
BCM2835
Processor Core
ARM Cortex-A53
ARM Cortex-A7
ARM11
Processor Arch
ARMv8 quad core 64Bit
ARMv7 quad core 32Bit
ARMv6 single core 32Bit
Processor Speed
1.2 GHz
0.9 GHz
0.7 GHz
RAM
1 GB
0.5 GB
0.5 GB (rev 2) / 0.25 GB (rev 1)
Storage
MicroSD
SD card
USB 2.0
4x USB Ports
2x USB Ports
Max Power Draw (@5V)
2.5 A
1.8 A
1.2 A
GPIO
40 pin
26 Pin
Ethernet Port
10/100 Mbit Ethernet
WiFi
Built in
No
Bluetooth LE
Built in
No
Comments
The latest version
~6x faster, Free Win10 IoT!
More USBs and GPIO
The original RPi
(If there are mistakes, feel free to tell me)
I don't have Pi Model A, A+, compute model and Pi Zero, so didn't add them on the chart, the points of Pi Model A+ and Pi Zero should be its power consumption, I/O, size and price, and I guess they are not so widely used or popular in commonly used scenario, so please don't mind.
I use OpenELEC, OSMC (RaspBMC) to watching movies and videos on my Raspberry Pi for a long time, it's good have a much more powerful Raspberry Pi to bring the better user experience about lower latency in the UI, sinces the post about Raspberry Pi 3 on Raspberry Pi blog says it's compatible with Pi and Pi2, and OSMC also says they support Raspberry Pi 3(Raspberry Pi 3 announced with OSMC support), I will like to have a Raspberry Pi 3 very soon! If you also want to buy your own Pi 3, you can purchase it online from RS components and element14 right now:
Once I have it (and I should also have free time), I'll also do some simple benchmarks on it, I did some benchmarks on Pi and Pi 2 before, see:
https://www.peterdavehello.org/2016/02/raspberry-pi-1-model-b-basic-benchmarks/
https://www.peterdavehello.org/2016/02/raspberry-pi-2-model-b-basic-benchmark/
Besides Raspberry Pi 3, there is going to have a Four year party of Pi, and Matt Timmons-Brown, aka The Raspberry Pi Guy make a video to celebrate what the Raspberry Pi community has achieved over the last four years:
Very cool!
Resource / Reference:
Makezine: Meet the New Raspberry Pi 3 — A 64-bit Pi With Built-in Wireless and Bluetooth LE:

http://makezine.com/2016/02/28/meet-the-new-raspberry-pi-3/

Raspberry Pi 3 Diagram from RS components:
Raspberry Pi 3 datasheet from RS components:
Raspberry Pi on wikipedia:
RASPBERRY PI 3 ON SALE NOW AT $35 on Raspberry Pi Blog
Raspberry Pi 3 Model B Board Features a 64-Bit ARM Processor, Adds WiFi and Bluetooth Connectivity, by CNXSoft: